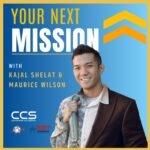 In today's episode of CCS Learning Academy's podcast, Your Next Mission, we talk to US Navy Veteran, Joshua Dominic Prado. Josh is CCS Learning Academy's Veteran Talent Acquisition Program Manager. He shares the ups and downs of his transitioning journey, his varied and winding civilian career path, and he gives us his insights on how vets can find their next mission in tech.
Your Hosts 
Kajal Shelat is CCS Learning Academy's Director of Business Development. She holds a Master's degree in Business Administration and has 10+ years in the education and professional training sector. She specializes in developing sustainable partnerships and implementing technology training solutions for private and public entities. She uses her passion for education and business to keep our programs current, engaging, and relevant to today's professionals. 
Maurice Wilson is on CCS Learning Academy's Board of Advisors. A retired Navy Master Chief Petty Officer with 25 years of service, Maurice is the President/Executive Director of the National Veterans Transition Services, Inc. (NVTSI), a non-profit organization he co-founded with retired Rear Admiral Ronne Froman after serving as an advisory member for the Call of Duty Endowment (CODE). 
Today's guest
Joshua Dominic Prado (USN/USNR) is CCS Learning Academy's Veteran Talent Acquisition Program Manager. He served as an Aviation Electronics Technician in the U.S. Navy for 10 years followed by a career as a technical trainer and technical training coordinator for one of the world's largest semiconductor engineering company (Cymer/ASML). Known for his technical knowledge and expertise, Josh excels at helping Veterans translate their military service into fulfilling civilian careers.