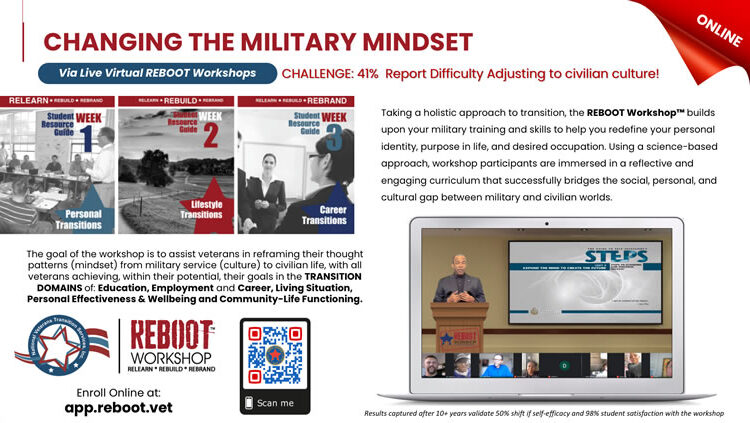 Date
2022-03-21 - 2022-04-01
Category
Events
Mindset
Workshop
We are enrolling online REBOOT Workshops to include additional "digital" career readiness/employment features.
Designed to be accessed anywhere/anytime, our new "digital platform" is ideal for deployed individuals, those stationed overseas, and those living in isolated regions of the country.
In addition to preparing transitioning service members, guard/reserves, and spouses for the change in culture from military to civilian, the workshop now offers the following "digital" features:
*The California Veterans Chamber of Commerce is an affiliate of the US Veterans Chamber of Commerce and is in partnership with the U. S. Military Spouse Chamber of Commerce.
** Ongoing community support and referrals offered through the San Diego Veterans Coalition, a network of over 150 veterans service organizations in SoCal.
*** Coaching services offered in partnership with TaskHuman.com a digital network of hundreds of online professional coaches.
TRANSITIONING FROM THE MILITARY TO CIVILIAN ENVIRONMENT IS MORE THAN A JOB CHANGE… IT'S A LIFE CHANGE!! We'll help you: RELEARN – REBUILD – REBRAND your life after service!